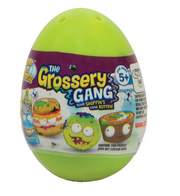 Surprise Eggs are a special limited time container that contains two Grosseries and a checklist in an egg-shaped package. They are similar in concept to the Surprise Pack. They were released in mid-March 2017.
Trivia
All of the Grosseries contained come in Exclusive colors.
Hairy Hare is a Limited Edition Grossery that only comes in these packages.
They have the ability to contain characters from multiple series at once.
These packages are UK and Canada exclusive.
They are currently not listed on the Grossery Gang List.
Gallery
Ad blocker interference detected!
Wikia is a free-to-use site that makes money from advertising. We have a modified experience for viewers using ad blockers

Wikia is not accessible if you've made further modifications. Remove the custom ad blocker rule(s) and the page will load as expected.