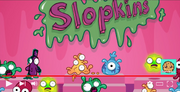 Slopkins are an in-universe toy line in the webseries' universe.
Description
Slopkins appear to be slimy and mutated small rubber creatures. Some characters include:
An apple with mismatched limbs.
A tall purple bottle-like creature.
A Cyclops garbage bag.
A floating glowing mound.
A red octopus.
An orange blob with three eyes.
Trivia
They are a parody of Shopkins, another toy brand by Moose Toys, which has crossed over with The Grossery Gang franchise before.
Their tagline is "Once you slop, you can't stop!", a parody of the Shopkins tagline of "Once you shop, you can't stop!".
They are seen in the Grossery Gang Cartoon Christmas, reviewed by PukieHurlC on her web series.
Gallery
Ad blocker interference detected!
Wikia is a free-to-use site that makes money from advertising. We have a modified experience for viewers using ad blockers

Wikia is not accessible if you've made further modifications. Remove the custom ad blocker rule(s) and the page will load as expected.