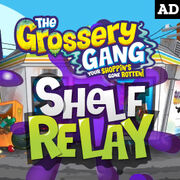 Shelf Relay is an online video game on the Australian Cartoon Network website. It is based on the webseries.
In July 2017, the game was put on the official Grossery Gang website.
Instructions
The game is played with the up arrow key and the down arrow key. Using the up arrow key to jump and the down arrow key to roll, the player takes control of Egghead, Pizza Face, Rocky, Doc Broc, and Sparkles in a relay race, dodging various food obstacles.
Hitting any obstacle ends the game, while finishing the course as a character automatically tags the next one to play as.
Achievements
Welcome to the Yucky Mart - Finish one game
Victory Yodel! - Finish ten games
Some Encouragement! - Tag another character ten times
A New Highscore - Reach 250M
Relay Master - Reach 500M
Teamwork Ain't Gross! - Use all five characters in a single game
Not Afraid of Heights - Jump over twenty obstacles
Let's Get Rolling! - Roll under twenty obstacles
Such Agility! - Evade fifty obstacles
Trivia
The background uses the catalog art of various Grosseries. This causes one of the Sticky Soda static artworks to appear in the background, even while Sparkles is racing.
The flies in the loading screen move away from the mouse when hovered over.
Gallery
External Links
Ad blocker interference detected!
Wikia is a free-to-use site that makes money from advertising. We have a modified experience for viewers using ad blockers

Wikia is not accessible if you've made further modifications. Remove the custom ad blocker rule(s) and the page will load as expected.