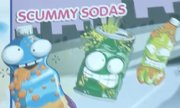 The Scummy Sodas are one of the different teams of Grosseries characters from The Grossery Gang found within the Super Market. These characters are specifically based on beverages, like juices and soda pop.
Grosseries
Trivia
This is the only non-limited or special edition Series 2 team to not have any color change ultra rares.
They have the smallest member amount in both Series 1 and 2, with Series 1 only having three members and Series 2 only having five.
Ad blocker interference detected!
Wikia is a free-to-use site that makes money from advertising. We have a modified experience for viewers using ad blockers

Wikia is not accessible if you've made further modifications. Remove the custom ad blocker rule(s) and the page will load as expected.