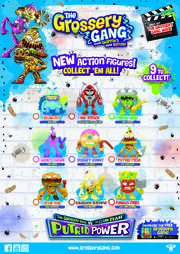 Action Figures are a spin-off of The Grossery Gang released during Series 3. They are larger versions of previously released Grosseries.
Background
The figures were first unveiled at New York Toy Fair 2017. These figures are interpretations of the characters from the Grossery Gang universe, with characters such as Putrid Pizza and Dodgey Donut appearing, along with many more on the way. The figures are compatible with the playsets.
Characters in figure form
Trivia
The characters are given bodies, arms, and legs, differing them from the main toyline.
Some characters have holes in their hands for weaponry and vehicle interaction.
The figures come with a special Grossery figure exclusive to the sets.
Only six figures were released in the first wave of release. The remaining three released in mid-September 2017.
The pictures of the special Grossery on the back of the boxes are slightly different than the ones released, possibly hinting at a prototype design.
Gallery
Pictures
Videos
Ad blocker interference detected!
Wikia is a free-to-use site that makes money from advertising. We have a modified experience for viewers using ad blockers

Wikia is not accessible if you've made further modifications. Remove the custom ad blocker rule(s) and the page will load as expected.